Statements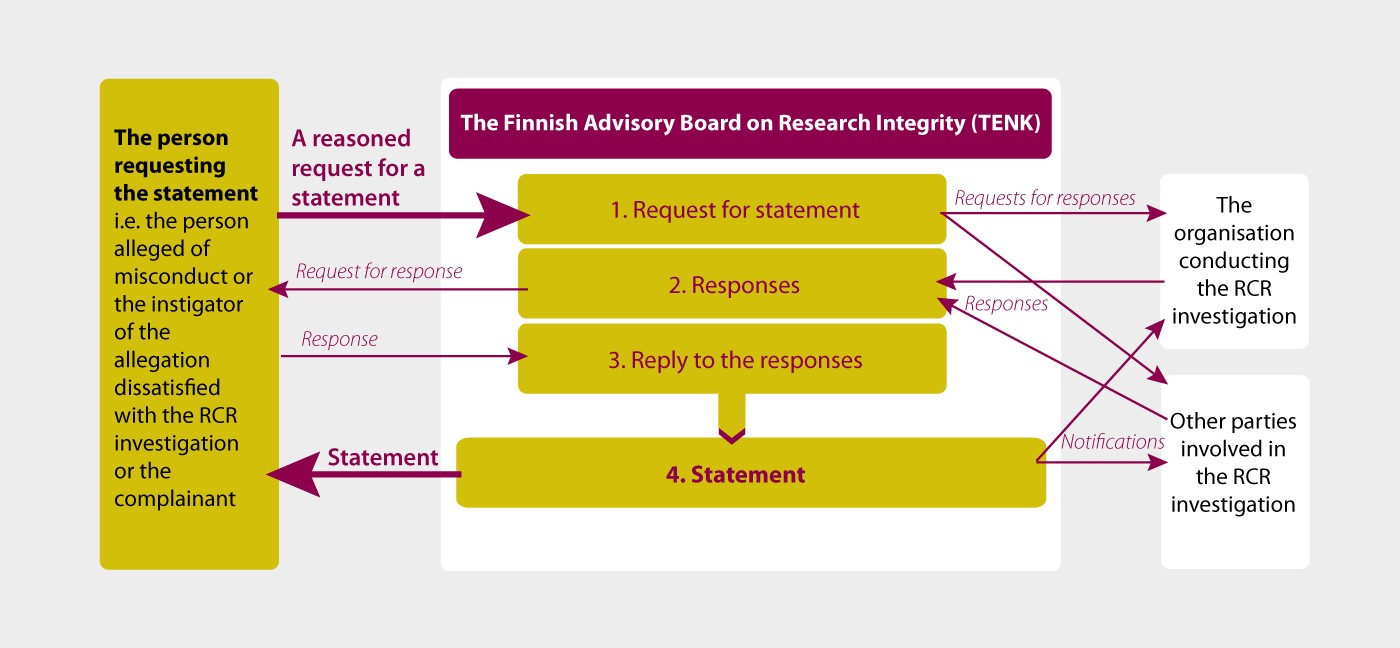 The premise of TENK's RCR guidelines is that promoting the responsible conduct of research and handling alleged violations are primarily the responsibility of the organisations conducting research. When alleged  misconduct has been reported and the report has been finalised by the organisation, the party dissatisfied with the ruling may request a statement from the Advisory Board. In its other activities, the Advisory Board focuses on promoting the responsible conduct of research, as well as formulating and publicising common guidelines in co-operation with the research organisations.
TENK does not intervene when there are violations of the norms of a specific academic discipline if these violations do not at the same time constitute a fraud as described in the RCR guidelines. Furthermore, TENK does not address alleged  violations of the law, such as copyright law or patent law.
As TENK focuses solely on research integrity issues, its statements comment only on whether the RCR investigation has been conducted in compliance with these guidelines, and whether there has been a violation of the responsible conduct of research. In other words, TENK does not comment on matters of opinion, on the different schools of thought, or on issues of professional ethics.
This request must be justified and it must address the specific questions that are the basis for the statement requested. The RCR process needs to be completed before any requests can be submitted to the Finnish National Board on Research Integrity TENK. No statements will be issued during the interim stages. The request for a statement must be submitted within six months of the decision. TENK must process the matter expediently, within five months of receiving the request, on the basis of the documents submitted to it. Furthermore, TENK must issue a statement addressed to the party that has instigated the process, and this statement must also be delivered to the rector and to the other parties involved. When compiling the statement, TENK may, if needed, request a written response from the parties concerned and from the investigating organisation. The person requesting the statement is to be given an opportunity to comment on these responses.
TENK's statement and the documents, including the appendices used in compiling this statement are, in principle, publicly available after the statement has been issued. In its statement, TENK may propose that the rector conduct an additional investigation if there are well-founded reasons for this in the material provided for the preliminary inquiry, in the final report of the investigation proper, or in the information provided by an involved party in its request for a statement.